Hyaluronic acid can be a great addition to your skincare routine if you are currently experiencing dry skin due to retinol.
This ingredient is super hydrating and can help relieve some of the constant dryness that's a frequent occurrence for many when starting retinol.
Additionally, since hyaluronic acid is gentle and hydrating, it's an excellent choice for those with sensitive skin – another plus if you're currently starting or moving towards stronger retinol.
So, can you mix retinol and hyaluronic acid?
The answer is yes!
But, as with any other skincare product, or ingredient, there are ways to mess up and have a bad experience when mixing retinol and hyaluronic acid.
Which is why in this article, I will talk about both components and give my advice on how to mix retinol and hyaluronic acid for the best results.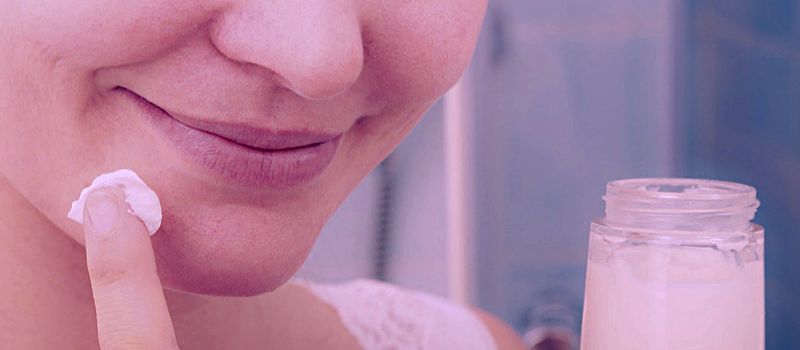 NB:
What if I told you I can show you how to never have acne again?
If you have acne and want it gone
,
read this message
.
How Does Retinol Work?
Retinol is a component that belongs to the family of retinoids, which are vitamin A derivatives.
This component encourages rapid cellular renewal from the deeper layers of the skin, causing the dead skin cells on the skin's surface to shed faster, which is why it can be said that retinol has an exfoliating-like action, but it's a little bit different than regular exfoliation.
This action will rapidly clear out and decongest clogged pores and shed superficial hyperpigmentation until the skin tone is completely evened out and uniform.
Other than that, retinol can also neutralize free radicals and boost the production of elastin and collagen, which are the proteins that make the skin elastic and bouncy.
An increase in collagen and elastin production creates a "plumping" effect, which reduces the appearance of fine lines, wrinkles, and enlarged pores.
Finally, retinol has also been proven to balance your skin hydration levels, but this phase will come once your skin gets past the initial irritation and gets used to the active ingredient.
How Does Hyaluronic Acid Work?
Hyaluronic acid is a substance that naturally occurs in the human body. It can be found all over our bodies, especially around skin cells and less so inside cells.
In fact, hyaluronic acid makes up about 50% of all glycosaminoglycans (GAGs), which are large molecules known as polysaccharides that deal with the support and maintenance of structural proteins such as collagen and elastin.
From all this, we can tell that hyaluronic acid plays an essential role in healthy-looking skin by holding moisture within its structure that maintains smoothness and elasticity.
Therefore, the benefits of using hyaluronic acid in your skincare routine are many.
Hyaluronic acid helps hydrate the skin, making it look healthy and glowy. It also strengthens the skin barrier and helps it carry out other vital functions, such as defending itself from pathogens.
Additionally, hyaluronic acid can temporarily reduce fine lines and wrinkles by making the skin look plumper and smoother.
It also has some anti-inflammatory properties, and it's non-comedogenic, meaning it won't clog the pores, which makes it beneficial for anyone dealing with acne.
How to Use Retinol with Hyaluronic Acid?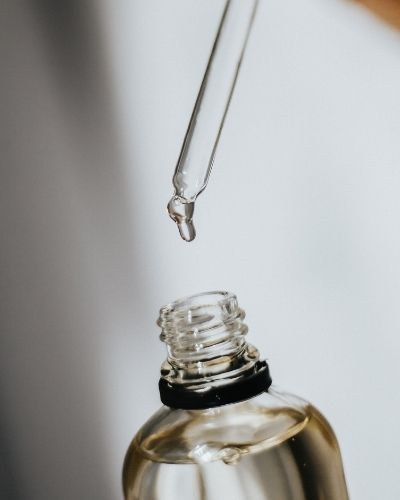 When mixing retinol with hyaluronic acid, you have three good options.
The first option is to use a hyaluronic acid serum that you would follow up with either a thicker, creamy retinol serum and then a moisturizer, or use a moisturizer that contains retinol as a final product in your evening skincare routine.
The second option would be to use a retinol serum first and follow it up with a moisturizer that contains hyaluronic acid 20-30 minutes after applying retinol.
You would want to wait after applying retinol because the retinol product needs to set on the skin, as applying something over it too soon might cause it to move around, which will give you uneven coverage.
Finally, the third (and my favorite) option is to use a retinol serum or a moisturizer that also contains hyaluronic acid.
This is my favorite option because this way you wouldn't have to apply multiple products and risk potential irritation due to mixing many ingredients.
When starting retinol, keeping things as simple as possible is vital, as this active has the potential to cause quite a bit of irritation, and you don't want to add anything unnecessary to it.
Risks of Mixing Retinol and Hyaluronic Acid
As is the case with all skincare ingredients, there's always some sort of potential for irritation. That potential is relatively high with retinol and very low with hyaluronic acid.
So, yes, there is still a chance of irritation, but it is a very, very small one—and that irritation would likely be caused not by the combination of retinol and hyaluronic acid but by the retinol itself.
Additionally, when using hyaluronic acid, and especially if you are mixing it with retinol, you should never forget to follow it up with a good moisturizer before it fully dries on the skin.
Allowing it to dry out will actually have the opposite effect of what you're hoping to achieve—drawing water out of the skin instead of hydrating it.
But besides these two things, a retinol and hyaluronic acid combo is safe with minimal possible side effects associated with mixing both ingredients.
Best Retinols with Hyaluronic Acid
If you want a product that does it all, a good option would be retinol which contains hyaluronic acid.
This will give you the desired benefits of hydration and cell renewal without having to layer too many products and risking potential irritation due to other ingredients in the products.
Therefore, here are eight excellent retinols with hyaluronic acid:
Paula's Choice – 0.3% Retinol + 2% Bakuchiol Treatment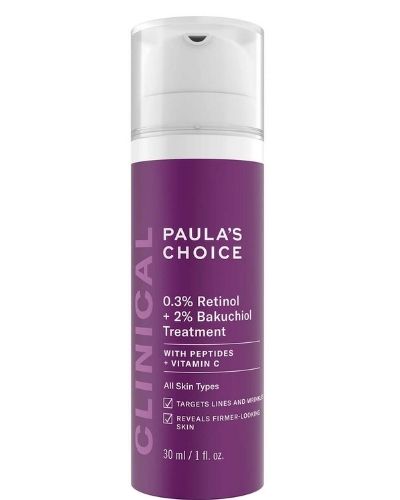 Best for beginner retinol users and sensitive skin.
Paula's Choice 0.3% Retinol + 2% Bakuchiol Treatment is an excellent retinol for beginners and those dealing with reactive and sensitive skin.
The advanced formula specially developed to reduce the visibility of fine lines and wrinkles, as well as even out uneven skin tone, contains a triple-action anti-aging complex, which consists of retinol and a high concentration of plant-derived bakuchiol, a natural anti-inflammatory agent that helps make retinol easier for the skin to tolerate.
In addition, the 0.3% Retinol + 2% Bakuchiol Treatment also contains a potent mix of hydrating hyaluronic acid and peptides to stimulate collagen production.
Paula's Choice – 1% Retinol Solution Treatment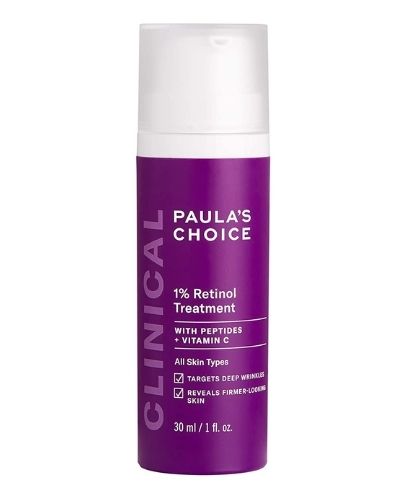 Best for advanced retinol users.
1% Retinol Serum from the CLINICAL line is a creamy serum that contains the highest percentage of retinol that you can get over the counter.
The retinol in this formula is encapsulated, which means it will refine pore size, and diminish the appearance of wrinkles, fine lines, uneven skin tone, and even more stubborn hyperpigmentation.
However, it will be released into the skin over time to prevent irritation and excessive peeling.
Besides that, the formula contains nourishing licorice and oat extracts and other soothing plant extracts to calm and soothe the skin, as well as hyaluronic acid to keep it hydrated.
The 1% Retinol Serum is an excellent product if you are looking to bump up the strength of your retinol. This is not the best beginner product, so look into something milder first if you've never used retinols before.
La Roche Posay – Retinol B3 Pure Retinol Serum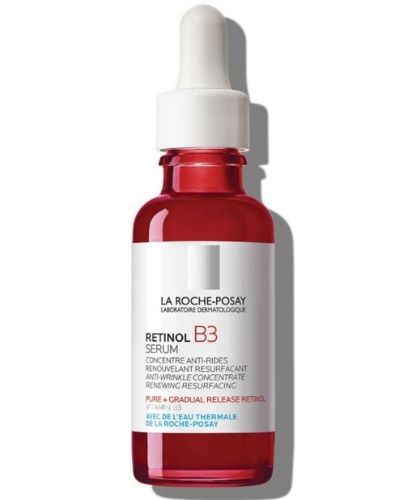 Best for combination, oily, acne-prone skin.
La Roche Posay's Retinol B3 Pure Retinol Serum is a lightweight and hydrating serum that contains 0.1% pure retinol combined with 0.2% retinol palmitate (progressive retinol) to ensure gradual release of the active ingredients.
This slow-release technology means retinol is better tolerated, and skin cell turnover is slower and gentler, leading to less flaking and irritation.
But besides the main active ingredient, the Pure Retinol Serum also contains compensating molecules such as 2% niacinamide, a brightening agent with barrier-repairing properties, as well as hydrating glycerin and hyaluronic acid to keep skin hydrated by retaining water.
But besides all the good, the Pure Retinol Serum also contains alcohol denat, and while this is good for giving the formula a lightweight feel, it might not be the best option for someone with excessively dry skin, which is why I'd go with recommending it for those with combo, oily, and acne-prone skin instead.
LilyAna Naturals – Retinol Cream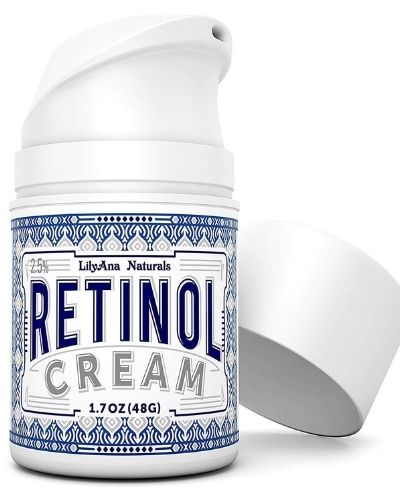 Best for sensitive, dry, dehydrated skin.
With over 32,000 reviews on Amazon, LilyAna's Retinol Cream is a product that delivers.
The moisturizing formula features hydrating, soothing, and antioxidant ingredients such as aloe, hyaluronic acid, vitamin E, green tea extract, nourishing shea butter, and softening jojoba oil to nurture the skin and prevent it from becoming dry.
On the other hand, pure Retinol helps combat visible signs of aging, including fine lines and wrinkles, alongside taking care of uneven skin tone and rough texture and improving the loss of firmness.
CeraVe – Skin Renewing Retinol Serum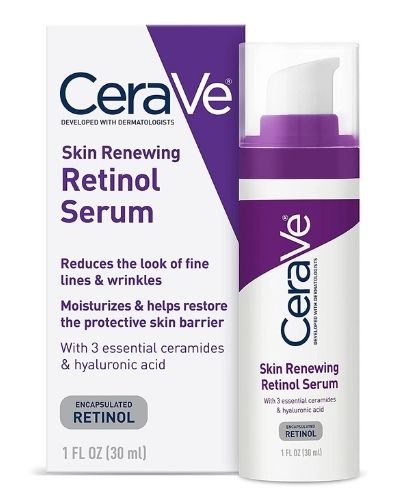 Best for dry and sensitive skin.
CeraVe's Skin Renewing Retinol Serum is suitable for dry, sensitive, and even eczema-prone skin.
It's a gentle yet effective daily retinol serum that provides a variety of brightening and anti-aging benefits thanks to the blend of barrier-strengthening ceramides, soothing and brightening niacinamide, and hydrating hyaluronic acid.
RoC – Retinol Correxion Anti-Wrinkle Retinol Face Serum with Hyaluronic Acid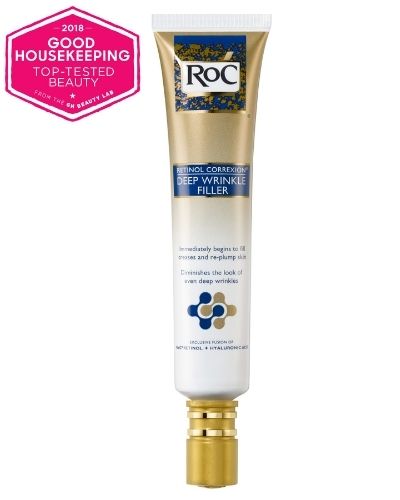 Best for mature skin, fine lines, and deeper wrinkles.
RoC's potent Retinol Correxion Anti Wrinkle Serum with Hyaluronic Acid is a product that has it all. It's inexpensive, effective, and packed with beneficial ingredients that work to reduce everything from signs of aging, lines, wrinkles, uneven skin tone, texture, hyperpigmentation, and even excessive dryness.
The creamy serum contains retinol, alongside hydrating hyaluronic acid, and moisturizing shea butter, fatty alcohols, as well as skin-softening allantoin.
Garnier – Green Labs Retinol-Berry Super Smoothing Night Serum Cream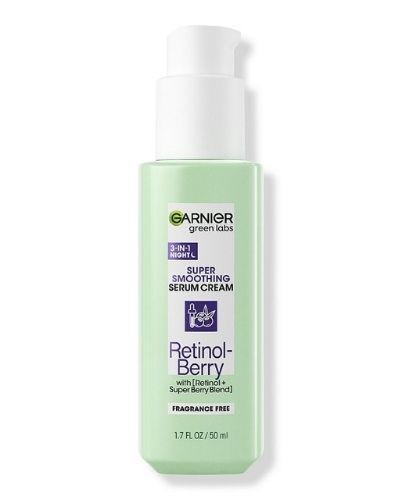 Best for all skin types.
Garnier's Green Labs Retinol-Berry Super Smoothing Night Serum is a daily retinol creamy serum that can also be used as a moisturizer if your skin is on the oilier side.
Formulated to provide anti-aging and skin-smoothing benefits, this serum/moisturizer contains pure retinol and an antioxidant bomb of berry extract to help improve the appearance of wrinkles, fine lines, uneven skin texture, and dullness.
Besides that, the Green Labs Retinol-Berry Night Serum also contains other hydrating ingredients such as hyaluronic acid, antioxidant magnolia extract, and niacinamide, a brightening agent with barrier-repairing properties.
It's also oil-free, non-comedogenic, and suitable for all skin types.
Vivant Skincare – DERM-A-GEL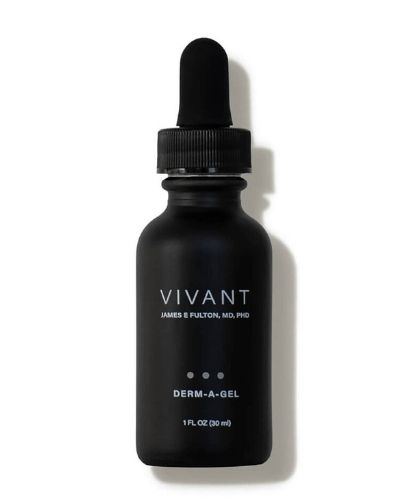 Best for oily, acne-prone skin.
Vivant's DERM-A-GEL is a retinol gel that's specifically formulated for oily and acne-prone skin.
The light gel formula contains anti-aging retinol alongside hydrating sodium PCA, an ingredient that holds up to 250 times its weight in water and is used in skincare products as a more potent alternative to hyaluronic acid to increase the moisture-retaining capability of the product.
Additionally, the gel-serum also contains brightening and pigment-inhibiting agents such as kojic acid, lactic acid, and niacinamide to help brighten uneven skin tone and get rid of hyperpigmentation, especially dark spots left from acne.
Lastly, the DERM-A-GEL also contains glycine, which is a naturally occurring amino acid and a building block of proteins in the skin, as well as urea, an organic compound that promotes rehydration in the skin.
My name is Simone and I am a certified skin specialist. I created this website to teach my readers how to take great care of their skin and I also like to occasionally share my honest opinions on skincare products I've tried. You can learn more about me here.
The Acne Solution: Your Ultimate Guide To Flawless Complexion
An extensive, no-nonsense course showing you how to never have acne again, from a licensed Esthetician specializing in oily/acne-prone skin.